Feed Scraper Conveyor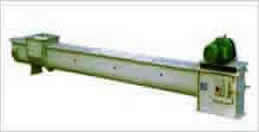 1) It is self-clean Scraper Conveyor which has advantages of large capacity and residual free. It is used in flat transportation or declining transportation which is less than 15°.
2) It is self-clean Type, flat and continuous transportation equipment which is widely used in Feed Plant, pre-mix plant to transport feed pellets or request residual free.
| | | | | | |
| --- | --- | --- | --- | --- | --- |
| Type | TGSU16 | TGSU20 | TGSU25 | TGSU 32 | TGSU40 |
| Powder (Kw) | 30 | 60 | 90 | 110 | 150 |