Cattle feed mill capacity to give production of 25-100 mt/day.The range of cattle feed mill offered by us are suitable for manufacturing a wide range of cattle feed in both small and large capacities. In these feed mills the feeding is done manually to grinders and the ground materials are transferred to mixer by means of screw conveyors. This and other innovative functions of the cattle feed mill ensure quality production of rich and nutritious cattle feed.
Features of Cattle Feed Mill: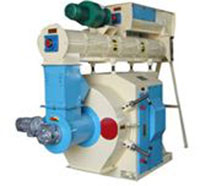 ● Low investment, quick economic return and high production capacity
● Flexible process flow and stable equipment operation
● High mixing homogeneity(cv<5%) and low residue
● Full steel structure, less land occupation and low building requirement
● Quick installation, fast plant construction. Only one week needed.


Advantages of Cattle Feed Mill:

● It is widely used for concentrate cattle feed mill, additives plant, pre mix feed mill to meet requirements for higher output, quality and retrofit;

● The technology layout is reasonable; machines are stable operation; Steel structure; less floor space;

● The double shaft paddle mixer made of stainless steel is adopted; all parameters are higher current industry standard;

● Dedusting machines are used for dumping hopper, hand intake, bagging off so that minimizes dust to meet environmental requirements;

● High homogeneity (CV≤5% and can reach 3),low residue;

● It can produce for both concentrate feed and premix feed;

● Simple liquid adding machine is used for addition of nutrition to improve quality of feed;

● Analogue control panel is used to facilitate automatic control;

● Professional design, manufacture, installation to guarantee customer get optimatization.