Detailed Feed Project Description
Place of Origin China
Capacity 10 T/H
Brand Name KMEC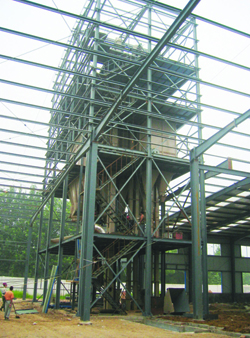 This feed project system enables optional material loading order (normally bulk material should be added first, additive follows), operation parameter setup (mixing time, mixed material unloading time, scale door close value, oil adding volume etc), recipe setup and modification; other functions include manual operation for each part, weight adjustment for buttons on full sequence panel; data retaining in electricity cut-off, configuration check slip means display.
Feed Project Characteristic
Professional Design:
The technology flow is adopted the popularity of recent industry development and also the best plan's designed based on customer's needs and native conditions. The overall layout is affordable, economical with detailed consideration from customer side.

Professional Manufacture:
All machines are stable, reliable the guarana plant is by using high automation level The automated control for procedure for production through advanced centralized control system guaranteeslowest operational cost.

Professional Installation:
We now have professional installation team with skilled experience for several years. They're careful and responsible.
Atmosphere Friendly:
Dust, noise and drainage of waste water meet environment needs.
● The overall blueprint is going to be performed for customer and also the flow could be met actual production needs of customer
● For clients specific needs, the fast response mechanism is going to be established and fulfill them throughout design, manufacture and repair
● For every project, the everything should be thought about completely for customer, for example flow sheet, equipment configuration, energy of machine, etc to understand probably the most reasonable cost control.
● Each Project is going to be developed in compliance with quality of Model Project Series standard project is going to be satisfied